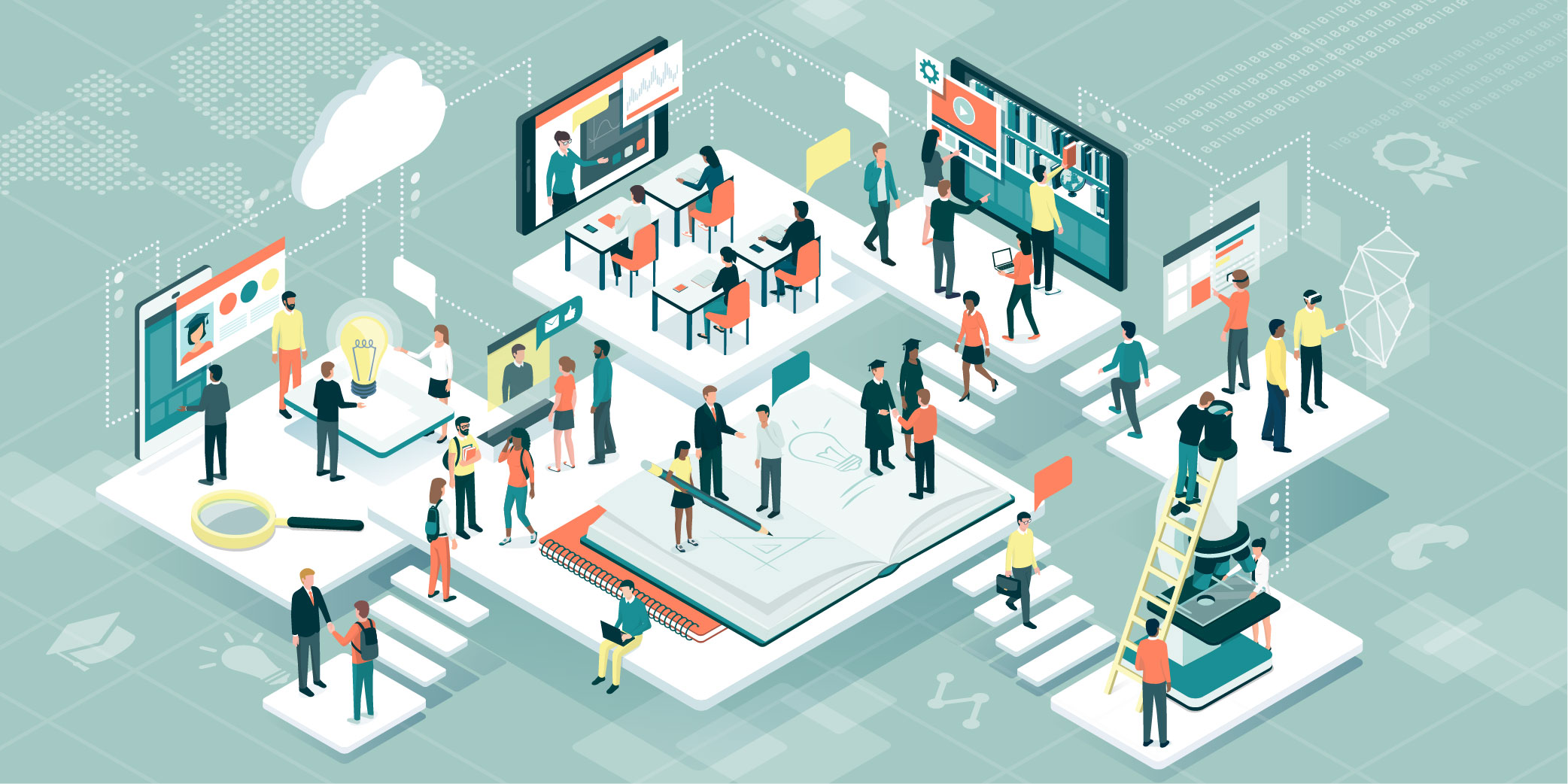 Image from elenabs by Getty
Guiding questions to ask when designing a blended course
written by Ariful Hoq Shanil, edited by Nancy Fischer
Content review June 2023
This article is adapted and modified from Ten questions to ask when designing a blended course. Centre for Teaching Excellence, University of Waterloo, under the Creative Commons license.
In a blended course, students can often pursue more teaching and learning activities online. To design a course in a blended or distributed learning environment, the following questions could be an effective starting point.
Course overview
How will you divide the percentage of time between the face-to-face part and the online portion of your course. For example, should it be 50% face-to-face and 50% online or another combination?
Intended learning objectives
What are the intended learning outcomes of the course?
As you think about the outcomes, which would be better achieved in the online environment, and which would be better conducted in a face-to-face class, tutorial or lab?
Learning activities and learner interaction
What types of learning activities do you think you will be using for the online portion and the face-to-face part of the course?
How will all the course activities feed back into and support each other?
How will the face-to-face, online and other 'out-of-class' learning activities be integrated into a single course?
How will you make the connections between the activities explicit to students?
Instructional materials
Blended courses provide new opportunities for asynchronous online discussions.
Which materials will be used for in-person or synchronous activities, and which will be specific to the asynchronous online portion of the course?
How will you use asynchronous discussions as part of the course learning activities?
What challenges do you predict in using online discussions?
How would you address these?
Assessment
How will you divide the course-grading scheme between face-to-face and online activities?
What assessment methods will you use to assess student work in each of these two components?
Course technology
Students can have challenges with using new instructional technologies to support their learning.
What specific technologies will you use for your course's online and face-to-face portions?
What proactive steps can you take to help students become familiar with your course's learning management system and those instructional technologies?
How will you provide support if students need help with technologies later in the course?
Learner support
When working online, students often have problems scheduling their work and managing their time.
What do you plan to do to help your students address these issues and understand their own role and responsibility for learning in the course?
There is a tendency for faculty to unintentionally require students to do more work in a blended course than they usually would in a traditional face-to-face course.
What are you going to do to ensure that you have not overstuffed your course and created a workload equal to one and a half courses?
How will you evaluate the student workload (and your own) as compared to a traditional class?
To go further
Find educational resources, templates or strategies to answer the posed guiding questions for designing your blended learning course as follows:
Design support for your blended courses

Book a free instructional designer consultation with the MB Hub if you would like to apply these guiding questions to your teaching and discuss more about it. We are here to support you in elevating your online, blended or distributed courses.
References
​​Singapore Management University. (n.d.). Teaching Resources: Blended Learning Toolkit. Retrieved from Centre for Teaching Excellence: https://cte.smu.edu.sg/
​The University of British Columbia. (2015, August 31). Resources: Blended Learning Toolkit. Retrieved from Instructional Design CoP: https://instructionaldesign.ubc.ca/
​University of Central Florida; American Association of State Colleges and Universities. (2011). Blendkit Course: DIY Project Task. Retrieved from Blended Learning Toolkit: https://blended.online.ucf.edu

This work is licensed under a  Creative Commons Attribution-NonCommercial 4.0 International License.